meychair PRO+ Serie
Now available: The new PRO+ work chairs, stools and sit stands!
meychair BLACK EDITION
Proven series in a new look.
Sit stands & Heavy duty chairs up to 250 kg
Sit stands and Chairs with high resilience - New! Up to 250 kg.
meychair Office footrest with noble solid wood top
meychair footrests for the modern office world.
Why Mey
Always oriented towards human anatomy and biomechanics.
Tradition and modernity
With healthy growth into the future
Your company for
Work chairs | Stools | Sit stands
Mey SYSTEMS GmbH has been a German, medium-sized family company for five decades, which has specialised in the development and production of industrial furnishings. Originating from the traditional craftsmanship of contract welding, today meychair is one of the leading manufacturers of swivel work chairs, sit stands and stools.
It is therefore a matter of course for us that most of our series have been certified by TÜV Rheinland with the GS-mark and that we always follow the current DIN standard 68877 for industrial and work chairs and DIN standard 4556 for footrests.
From the idea through development to the finished model, we attach particular importance to safety and quality.
meychair – Time for a change
Consistent
We at meychair would like to constantly develop further and constantly check our range. In particular, the criteria in the area of ​​sustainability are an important guideline for us, according to which we would like to align our range for the future. We mark our most sustainable models for you on our website. Together we can contribute every day to using sustainable products for a better future.
Ressource-saving
We believe that a resource-saving company policy is the foundation for our future. What does a chair really need, what makes it special and which mechanisms should we use so that the service life of our chair models is above average? These questions accompany us in the development and construction of new models and allow us to constantly improve existing series.
We start small…
and want to get a little better every day. So we keep questioning ourselves and see where we can improve. Nothing goes unchecked. Regardless of whether we optimize our heating behavior, set up a charging station for electric vehicles or convert our chair series to more sustainable components. Everything leads to the goal and contributes to responsible treatment of nature and its resources.
in every meychair NEWSLETTER – new every 14 days!
Strong arguments – strong seating furniture
for your sales pitch in every meychair NEWSLETTER – new every 14 days!
!!! NEWS NEWS NEWS !!!
Subscribe to the newsletter and get the latest meyDEAL every month.
The newsletter informs you exclusively about:
– the my DEAL of the month
– the mey DEAL CODE for your SPECIAL PRICE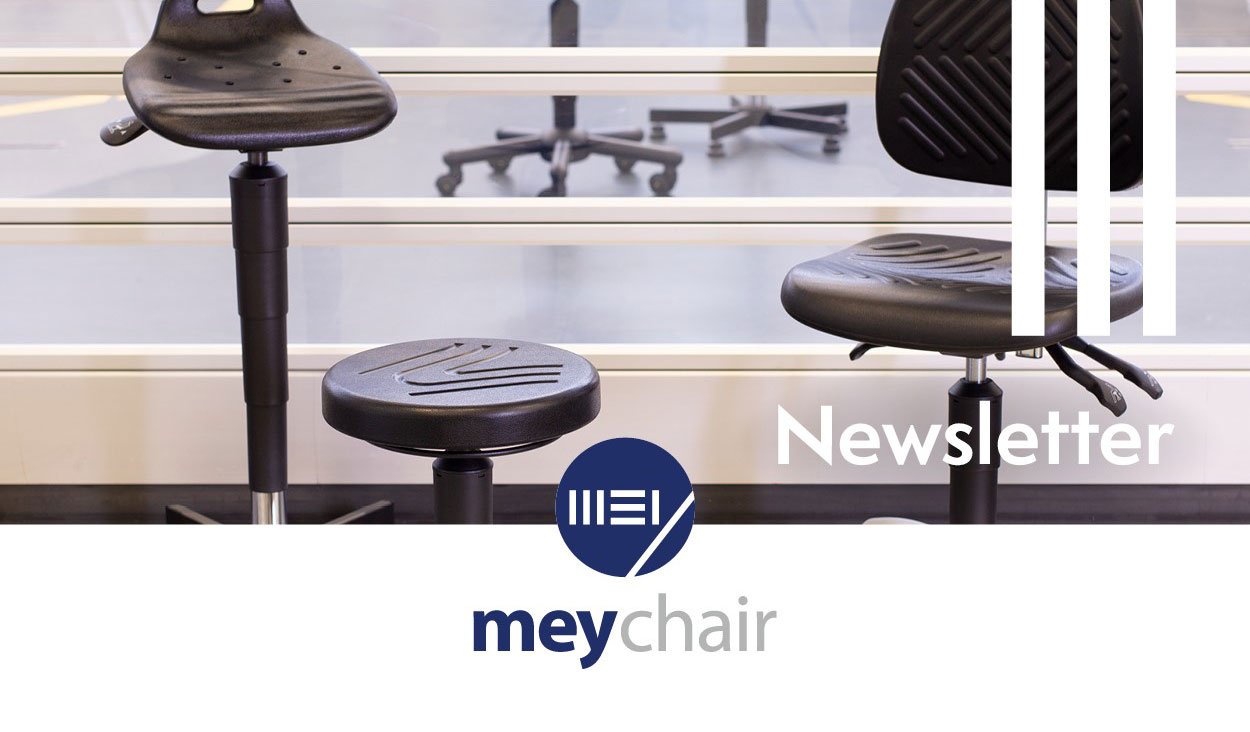 pCon offers 3D product configuration, room planning, comprehensive product information and preparation of offers – both mobile and on your desktop computer.
meychair – versatile, stable, strong in seating
Versatile
Did you know that the meychair brand offers an exceptionally wide range of products?
It doesn't matter whether you want to choose from different sets or models or whether you need a special solution. Desk swivel chairs, sit stands, stools and foot rests – meychair offers you seating and functional furniture that is tailored down to the last detail to meet workplace requirements.
Stable
Do you know why your customers have used meychair seating furniture for so many years?
The meychair brand stands for extreme stability, resilience and optimal industrial mechanics. Our seating furniture is equipped with modern, high-quality technology and tailored to the requirements of industrial workplaces. meychair doesn't compromise: strong, stable and durable chair parts and star bases as well as robust seating sets make the models the perfect companions at every workplace.
Strong in seating
Do you know what the strengths of the meychair brand are?
Decades of experience, outstanding skills and family-run company management make the company and the meychair brand a strong and reliable partner. Company founder Joachim Mey was already known for his innovations, flexibility and technical knowledge and, together with his son Dieter Mey, led the company from a contract welding shop to an international family business. The company is now in the third generation, with the grandchildren Tobias and Benedikt Mey.
Frequently asked questions
We look forward to every customer, every contact and every call. But would you like some quick answers? Do you have a common question in mind? Then read more here! Our FAQ contain the typical questions and answers about ordering, shipping, quality and complaints. Everything is included to provide you with short and concise help.